Battery Shunt Resistor SE8536-050-40 instead of Vishay WSBS8536-050-40
Battery Shunt Resistor SE8536-050-40 instead of Vishay WSBS8536-050-40
Big current shunt is made by using excellent stability of high quality manganese copper alloy through a special welding process, can make the shunt in a large temperature change resistance value is still stable.
High precision, low thermoelectric potential, low temperature wave, low power coefficient.
Suitable for power battery pack, high power charging device, power electronic equipment current detection, frequency converter, UPS, motor control and electronic load equipment.
Features:
Shunt resistance,shunt resistor current measurement,current shunt,current sensing shunt.

Temperature Coefficient≤150ppm/℃

Comply With EU ROHS Standards

Special Specifications Can Be Customized

According To Requirements

Electron Beam Welding, Stable Performance

Sustain High Temperature
Electrical Specifications:

Model
Size

Power

Rating

@70℃

Tolerance

±10%

Resistance

Value μΩ

TCR

ppm/℃

Operating Temperature

Range ℃

SE8536-40

8536

50W

5

50

≤150

-55℃~+170℃
Dimensions: (mm)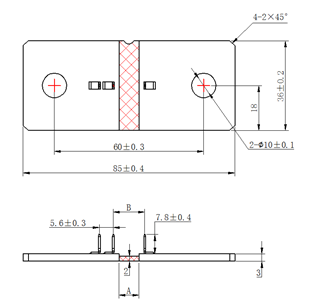 Resistance Value (μΩ)

Element Material

A (mm)

Reference

B

(±0.2mm)

50

Mn-Cu

8

12.6
Performance:
Test

Specification

Test Methods

TCR

Within specified

-55℃-170℃

Short Time Overload

No mechanical damage

△R≤±1.0%R

5RP for 5s

Resistance to Soldering Heat

No mechanical damage

△R≤±1.0%R

Lead-free solder bath at 260℃±5℃ for 10s±1s.

Endurance at 70℃

No mechanical damage

△R≤±1.0%R

70℃±2℃,1000h,Rated current or limiting element current whichever is lower 1.5h ON/0.5h OFF

Biased Humidity

No mechanical damage

△R≤±1.0%R

85℃/85%RH.1000 hours, Apply 10% of operating power (current) or limiting element current whichever is lower.

Rapid Change of Temperature

No mechanical damage

△R≤±1.0%R

-55℃(30min)~normal temperature(5min)~170℃(30min)100cycles

Endurance at Upper Category Temperature

No mechanical damage

△R≤±1.0%R

170℃±2℃,1000h

HF Vibration

No mechanical damage

△R≤±1.0%R

10~200Hz, 98m/s², 6H
Derating Curve: